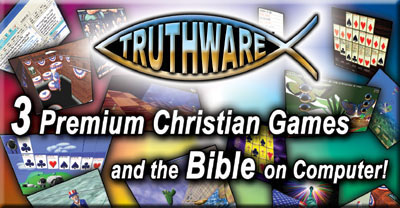 Godspeed 3D - One Nation Under God - Scripture Solitaire - The Sword Project
Full versions of all games! Lots of fun without violence! Ages 7-Adult

A wild roller coaster-like race through virtual worlds!
When you come to an intersection, choose the lane where you hear the truth or run off the end of the road! Overcome road hazards like deception, confusion, and greed using faith, hope, love, etc. No reading or typing required: it uses spoken true/false (KJV) questions. Cutting edge 3D graphics. The learning is truly part of the game so you'll find yourself remembering without really trying. Teaches Bible Literacy in 12 Categories including the Ten Commandments!
---

Learn how America was founded as a Christian Nation.
Learn the truth about America's founders - nearly all were Christians. An interactive 3D learning environment - kids will think it's just a cool 3D game. Text-to-speech technology, optionally reading the material to your student. In-depth research proving the founders were Christian, using their own words. Flying, sliding, jumping, bouncing, dodging, searching, and solving puzzles. Includes 14 Lessons!
---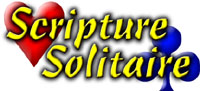 Learn the Bible with the game you love to play!
Each card has a short phrase in place of the rank: King, Queen, etc.When those phrases are put together in order they form a Bible verse. With the hint system and the variety of game selections, it can be as easy or as challenging as you like. 7 Solitaire games and 7 colorful themes!
---

Full featured Bible program
with word searches, footnotes,bookmarks, Strong's numbers, morpholigical tags and more for the advanced user, but the simplicity of use for the novice! Includes 16 translations, 14 commentaries, and 11 dictionaries! Additional modules available on-line.
---
Requirements: Hardware accelerated 3D video card compatible with included Microsoft DirectX 8,sound card, 32Mb RAM, Windows 98/Me/XP, mouse, joystick, CD-ROM. Compatible with most home desktop PC's made this century!