Limited version:
1 theme, 1 game, 1 verse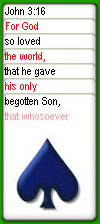 Scripture Solitaire combines the words you reverence with the game you love. There are seven different solitaire games to choose from including the classic Klondike and Freecell. The game contains hundreds of verses from the King James Version of the Bible, and you can create your own verse or quote files to use in the game as well. There are six beautiful background themes. Each card has a short phrase in place of the rank. For example: King, Queen, Jack, Ten are replaced with "John 3:16", "For God", "so loved", "the world". When the phrases on all 13 cards are put together in order, they form a Bible verse. With the hint system and the variety of game selections, it can be as easy or as challenging as you like. Scripture Solitaire is a fun way to incorporate God's word into your life!
Download Free Version

Download the program to a convenient place on your computer,
such as the desktop. Run it from there and it will automatically install.
Read the review at ChristianAnswers.net



Created by the designer of Bible Builder and Captain Bible!
System Requirements
Windows (95-98-ME-XP), 16Bit 800x600 Video or better,
Pentium 100 or better, Sound Card, DirectX 7 or later
You may wish to refresh your Microsoft DirectX System files at
Microsoft DirectX Run-time Files (this is not Scripture Solitaire).